Request to Try Gather's A.I. Obituary Builder Today 🚀
Submit the form below to get access to a free demo account in Gather where you can test our A.I. Obituary Builder for 7 days.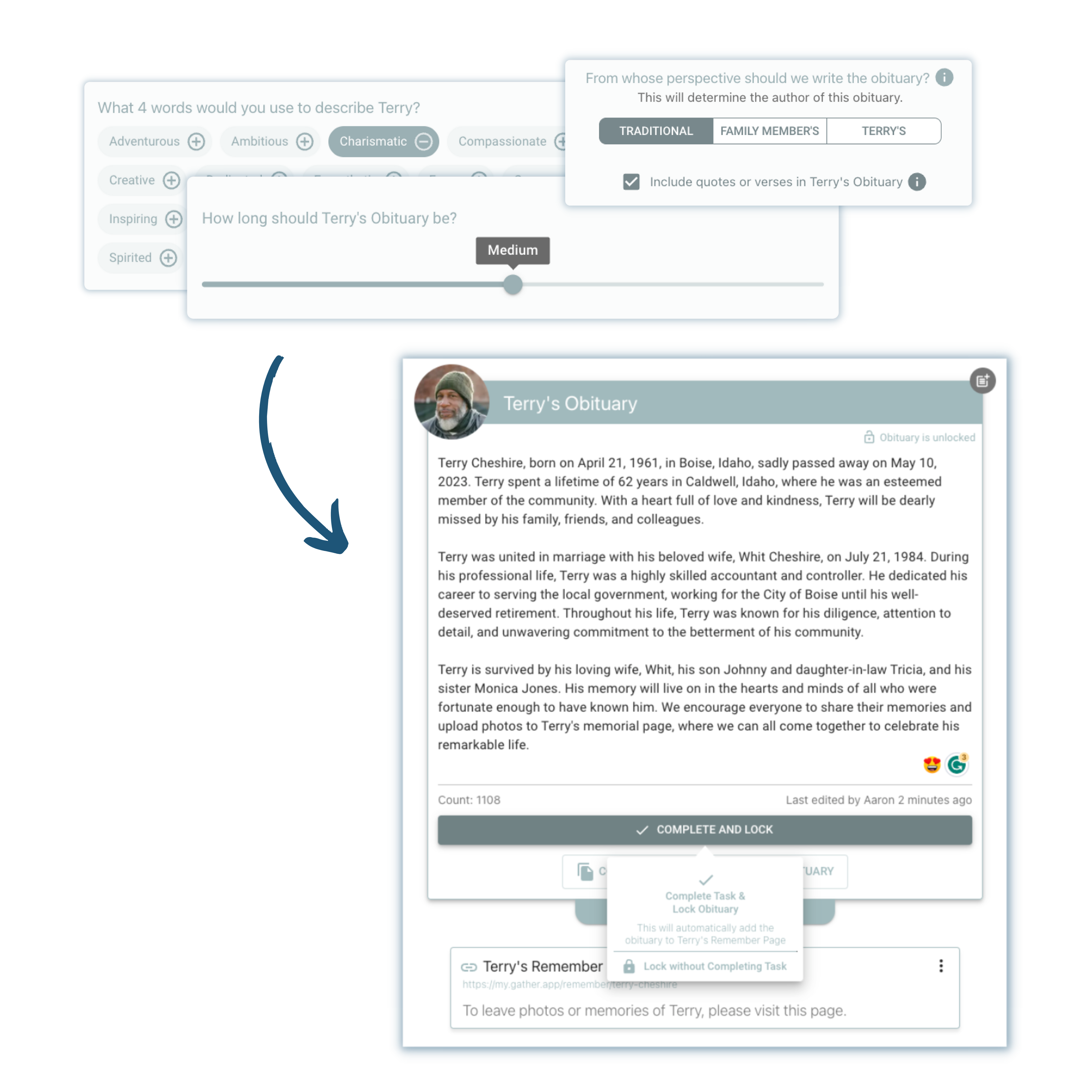 Scroll down to learn more about this new obituary tool 🪄
Why Gather's Obituary Builder is Best-In-Market
Intelligent Data Collection
Automatically import 50+ data points to be included in the obituary: scheduled events, vitals, survivors, religious info, and much more.
Create Obits in Any Language
The AI Obituary Builder can write obituaries in any specific language that you need.
Precision Accuracy
No missed details, no grammar mistakes, and every obituary reads as if it were handwritten by a professional.
Full Customization
Unique prompts allow for your staff and families to create meaningful obituaries in minutes, not hours.
Family Friendly Tool
Invite families into the platform to collaborate and use AI Obituary Builder. Send reminders. Lock the completed obituary at any time.
Edit The Obit in Real-Time
If preferred, your staff and families still have the power to directly edit as much of the generated obituary as you'd like.
Configurable Rules & Settings
Specify a word limit for every obituary, specify formatting, and much more with settings or rules that you can set for the tool.
Organize Newspaper Submissions
Specify local newspapers, attach photo(s), and add instructions for submitting each obituary.
Video: How This Feature Works
Who is Obituary Builder designed for?
Obituary Builder is designed to be used by both funeral home staff AND families.
Can I generate obituaries in different languages?
Yes, our AI Obituary Builder is friendly for any language - you'll need to include the language of your choice in the prompt for this to work properly.
Are families able to edit the obituary on their own after it's been generated by Obituary Builder?
Yes, families have the option to edit as much of the generated obituary as they'd like as long as the obituary is not locked.
How accurate are the obituaries created with Gather's Obituary Builder?
Because the tool is fully integrated and intelligent, it pulls over 50 data points that have already been entered into Gather's case management platform to ensure that no details are missed in your loved one's obituary. Additionally, it is very rare that random details are made up or falsified within the obituary because of our intelligent prompts.
What if I don't want an AI-generated obituary for a loved one?
No worries - the family still has full control over what is written in the obituary with full edit access. They can even start from scratch or paste in an obituary that is already written outside of Gather.
How is the case information collected and imported to the AI-powered Obituary Builder?
During the arrangement conference, the family will work with the funeral home to complete all vitals, designate family helpers, and much more. All of this information is automatically mapped over to the obituary writing tool to prevent unnecessary duplicate data entry.
Can I automatically set a standard word limit for all obituaries that are generated with Obituary Builder?
Yes, you can if you're the funeral home. There is a settings toggle where you can create a short prompt for the AI to always set the word limit to 1,000 words maximum for every obituary created, or whatever number you'd like.
What is required to start offering Obituary Builder to families and our staff?
In order to start using AI Obituary Builder, you need to already be using Gather's case management platform to offer this feature to your staff and families. If you want to give it a try, let us know and we will send you an invite so you can try it out to see for yourself how well it works.
Once you've earned access to your demo account, you're entitled to test our new A.I. Obituary Builder tool for 7 days for free. After that point, your access to the demo account will be revoked.